In 2016 Benjamin moved to Africa to help put some 1970s cool back into the crown jewel of Moroccan golf, arguably one of Robert Trent Jones Sr.'s best designs, Royal Golf Dar Es Salam.
"Young muslims dream about making enough money to take their parents to Mecca" my friend Reda Channane tells me, "but I dream about taking my parents to visit St Andrews."
Reda and I are standing on the second tee of Royal Golf ANFA Mohammedia on the Atlantic coast of Morocco. Affectionately know to local golfers as l'Écossais, or 'The Scottish', Mohammedia tumbles across a wind-blasted dunescape. Today it is a hidden gem. But this wasn't always the case. The Scottish was a favourite of the late King Hassan II, who maintained a small palace behind the clubhouse where he hosted visiting Presidents and Prime Ministers, movie stars and business magnates. Mohammedia has seen its share of eighteen-hole diplomacy.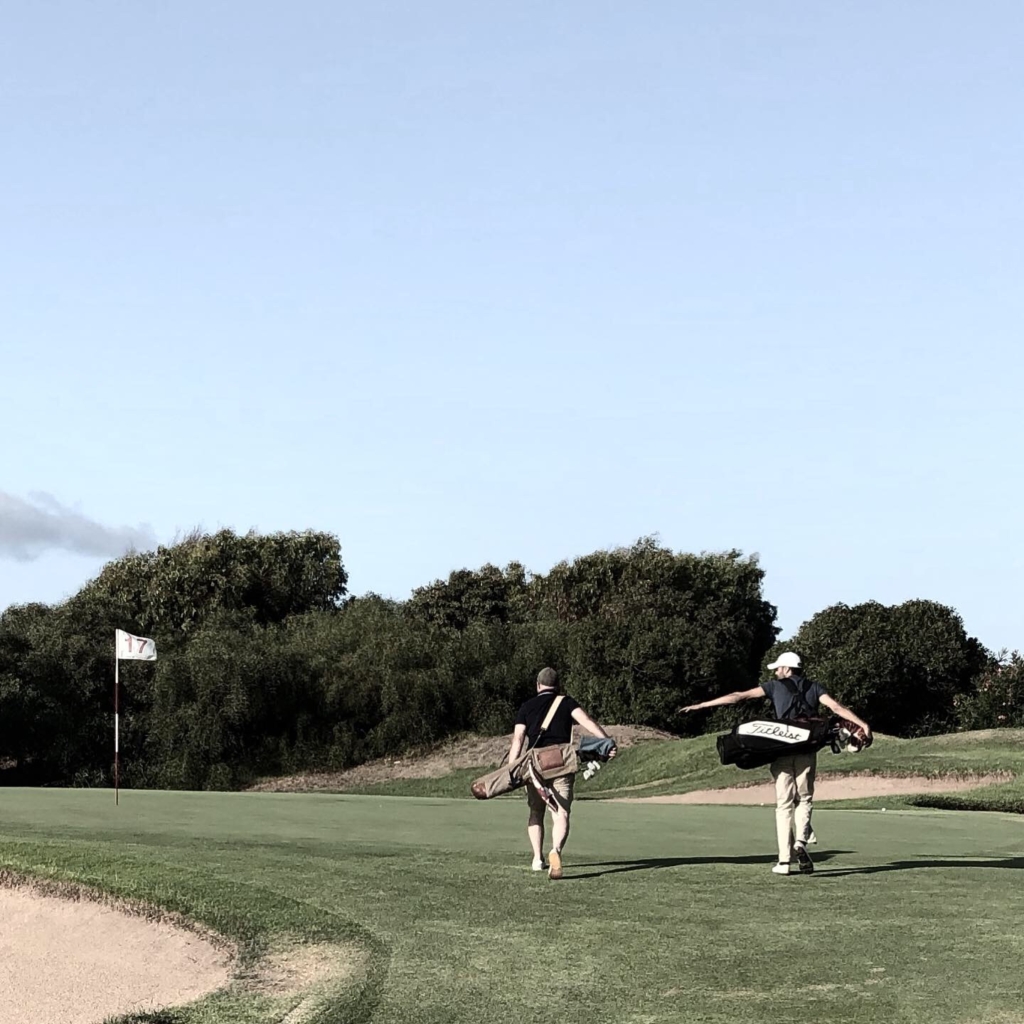 Expats introduced golf to Morocco over 100 years ago" says Reda, "but in the 1960s King Hassan II fell in love with the sport and everything changed. Golf became the game of the Moroccan aristocracy. The King saw its value for building relations with the leaders of the country that he considered most important to the stability of his nation, the United States."
In September 2016 I didn't know any of this. I was embarking on my first project in Africa; excited to experience life in a muslim country.
My golf architect friend James Duncan had asked me to help him renovate the legendary Parcours Rouge at Royal Golf Dar Es Salam. I couldn't refuse. James divides his time between a Design Associate role with Coore & Crenshaw and running his own firm. In Morocco we would be working for the President of the Royal Moroccan Golf Federation, His Royal Highness Prince Moulay Rachid, the second son of King Hassan II.
When I arrive in a new country I orient myself by living in a traditional neighbourhood for a few weeks. Rabat, Morocco's small but dynamic capital city, is perched on a rocky outcrop on the west bank of the Bouregreg river. My base would be in be the ancient city centre—the medina.
My flight to Casablanca is uneventful; the highway to Rabat is fast and smooth.
I enter the city limits. The road starts to twist and turn through ancient walls and archways. Two minutes to my destination. A beautiful gate. One last turn.
There are no cars in this alley. I inch forwards through hundreds of friendly people, many wearing traditional clothes. Street musicians play African music on strange instruments. Steam, smoke and spicy aromas emanate from street food vendors. No-one cares that I am driving, but I imagine google maps is secretly laughing at me. It feels like I've been transported back in time.
One phone call later and a doorman comes to retrieve my car. I check into my hotel and sleep.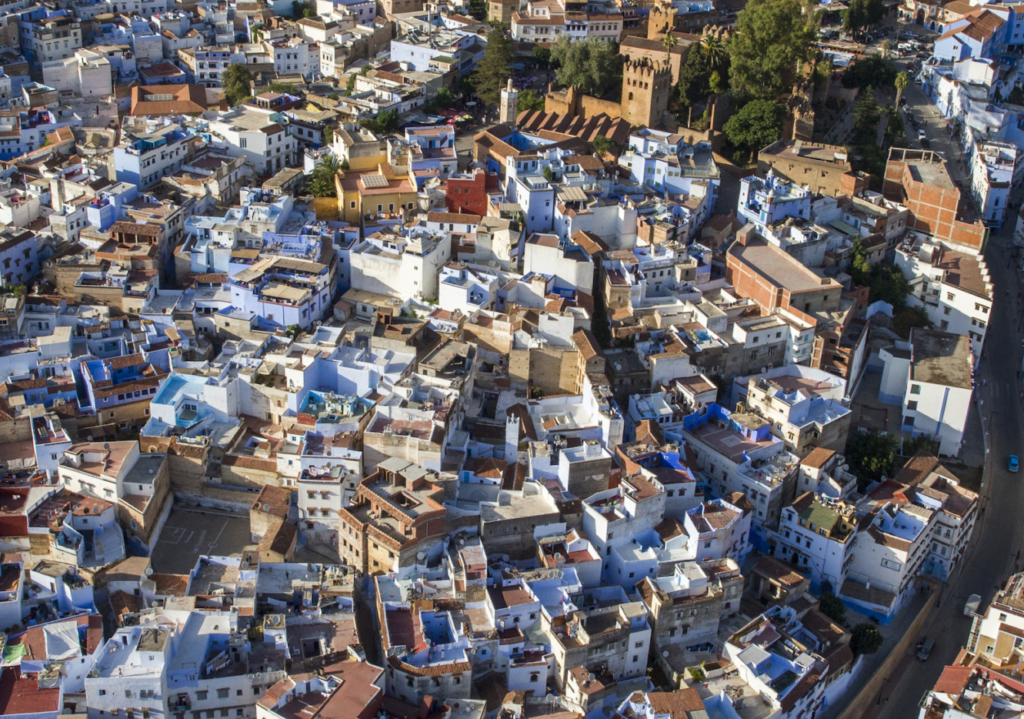 Golf is a universal language. The Dar Es Salam project is familiar. We've been hired to improve greens, bunkers and tees. After one week we're making progress. I'm re-shaping a fairway bunker on the par four 15th when the site foreman Hamza approaches me.
"My team is going home tomorrow," says Hamza, in a mixture of bad French and bad English, "They'll be back in one week. Have you heard about Moroccan Christmas?"
"Moroccan Christmas?"
The roads of Rabat's New Town are different tonight. Black BMWs with diplomatic plates have been replaced by hundreds of vehicles that resemble the iconic Tuk Tuk taxis of Bangkok. But the passengers are not people. Each vehicle contains two or three confused looking sheep.
I cover the final hundred yards to my lodging on foot. The alleyways are quiet. A gentleman in a traditional djellaba tunic leads a sheep from one alley to another. Another sheep disappears into a stairwell. The sounds of livestock echo through the alleys of the medina.
I order a bottle of rosé wine and head for the roof terrace of my riad, a peaceful mini-fortress in the heart of the medina with eight beautiful rooms. Five-hundred years ago this was the house of a wealthy merchant.
Movement on the neighbouring rooftop catches my attention. Someone has tied a couple of sheep to a railing. I look across the street. A sheep looks back at me from a balcony and emits a question-like "baaaa?".
"Moroccan Christmas?" Vincent, the French owner of my lodging laughs at me. "Tomorrow is the most important holiday in the Islamic calendar, the Eid-Al-Adha festival; the festival of sacrifice. Every family has a sheep delivered to their home. They keep it there for one or two nights. On the morning of the festival the head of the family performs a ritual sacrifice. The heads and skins are discarded. Everything else is stored and eaten.
"Turn on the the Al Aloula TV channel at 7am. Let's walk together after breakfast."
Vincent and I finish the bottle of rosé. Sheep noises drift through the night air.
I'm woken by a series of low pitched noises. The volume grows louder. A special call to prayer is echoing around the smooth stone walls of the medina. With four mosques in my immediate vicinity I have full surround sound. It is remarkable, intoxicating even.
On TV His Majesty King Mohammed VI of Morocco is dressed in ceremonial Islamic clothing. He is at a mosque in Rabat and is surrounded by a group of gentlemen wearing red tarbouche fez hats, white djellaba tunics and yellow babouche slippers. Some of the men have a magnificent sheep with giant horns pinned to the ground. Others hold a white sheet. To the right of the King I notice our client, the President of the Royal Moroccan Golf Federation, His Royal Highness Prince Moulay Rachid.
Anyone who has seen the European Tour's Trophée Hassan II on TV will recognise HRH from the closing ceremony, where he presents the champion with a jewel-encrusted ceremonial dagger. It is one of the most unusual trophies in the world of golf. It is unmistakably Moroccan.
King Mohammed VI holds a similar dagger. He leans over and slits the throat of the sacrificial lamb. The men cover it with the sheet. The Eid-Al-Adha festival has begun.
Vincent and I take a walk. "Eid mubarak said!" he calls to everyone we pass, wishing them a happy Eid. The character of the medina has changed. The hustle and bustle is gone but the handful of people in the street are in a festival mood.
From windows and alleyways we hear the muffled cries of sheep being sacrificed. Around one corner a lady in a hijab chases a river of blood into a drain with a bucket of water. One more turn and we are confronted by a gentleman wearing bloody white overalls and a face mask. He carries a giant knife.
"Butchering a sheep in your home is a lot of work," Vincent laughs, noticing the look of terror on my face, "after Eid prayers and the sacrifice some families call a door-to-door butcher to separate the animal parts that will be discarded, and the meat which will be kept to feed the family."
Pyres have been set up in the street. The heads of the sacrificial lambs are piled together and set alight. Smoke billows through the air. Everyone we meet is truly happy. My first Eid Festival has been educational and unforgettable.
–––
Looking at a putting green during construction can be tricky. Some clients see golf. Others see a pile of dirt. As a shaper you accept that your artistic endeavours might go unnoticed until they are covered in grass. By that time you may be long gone, working in a far flung corner of the world.
When in residence in Rabat His Royal Highness Prince Moulay Rachid is a regular at Dar Es Salam. His brother King Mohammed VI can play but the Prince is known to be an accomplished player. Indeed, HRH has captained a team of his friends to multiple Pro-Am victories, including at the PGA TOUR Travelers Championship and the European Tour Dubai Desert Classic. HRH falls into the group of clients who can see art in dirt. He will personally review every green we rebuild at Dar Es Salam.
It's a beautiful summer's evening. I'm reshaping the 14th green of the Parcours Rouge, a 208 yard par three which plays slightly downhill and is heavily bunkered. Starting here perfect execution is required on every shot of the home stretch.
In the late 1960s identifying the world's number one golf course architect was easy. Robert Trent Jones Sr. had been the consulting architect at Augusta National. He was redesigning host venues for the US Open. He was active worldwide and would design over 500 golf courses in his career.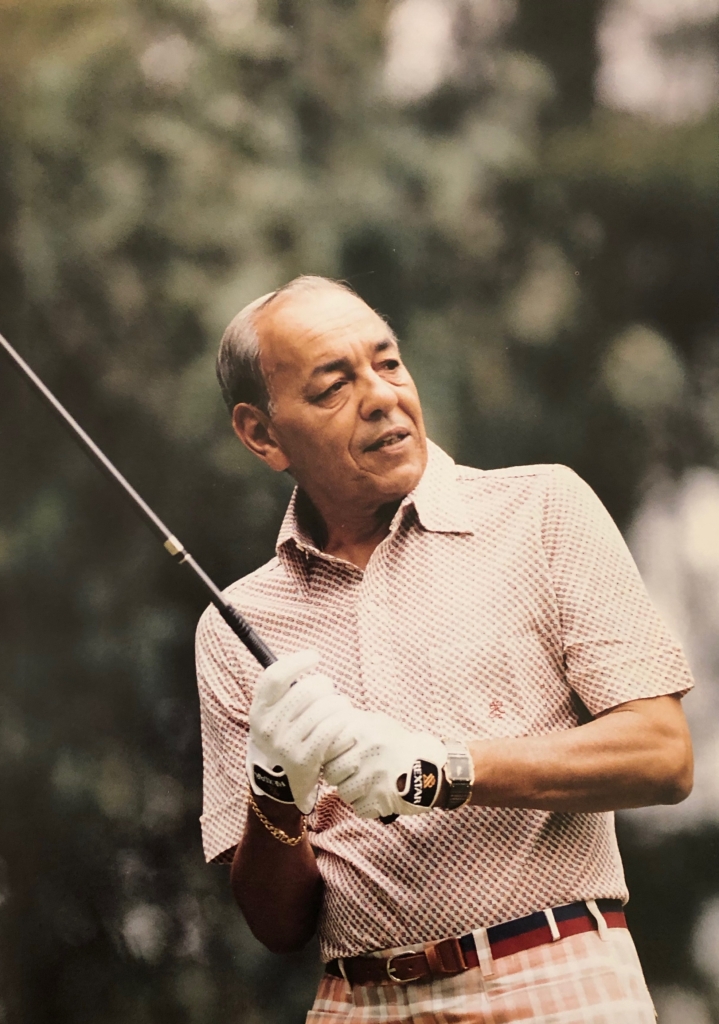 King Hassan II commissioned Jones to design a world class 45-hole facility in a beautiful cork oak forest outside Rabat. The sandy property was one of the finest that Jones would ever work with. His 7,500 yard design for the Parcours Rouge was intended to be the toughest tournament test in Africa. It would be recognised as one of the toughest in the world.
Back at the 14th tee a group of 10 people appear. I sit a little straighter in my excavator, eyes forward. Royal protocol is that you do not approach HRH. If he wants to talk he will approach you.
When my colleague James Duncan started researching Dar Es Salam he visited Cornell University's Rare Manuscript Collection, which contains files on over 300 RTJ projects. The Parcours Rouge file had more than just two-dimensional plans though, it contained Mr. Jones' original hand drawn sketches for seventeen of the eighteen greens at RGDES. James had struck gold. His analysis revealed that, for one reason or another, none of the greens matched the original specifications. Our task was clear: to restore the greens to Mr. Jones' original intent.
The Prince and his group of friends reach the exposed sand of the 14th green. I turn off my excavator and jump out of the cab. The group studies the front left thumbprint that I shaped earlier that morning. They walk to the back of the green and assess the severity of the 'Sunday pin', pointing at the contours that will feed well played shots into that back left quadrant. His Royal Highness is a student of the game. I know that he has memorised the Trent Jones sketches. He walks towards me.
"Benjamin," says HRH, pausing for effect, "you are a Scottish devil!"
"This is what Mr. Jones wanted," I offer, trying not to smile too hard, "This is a difficult par and a difficult bogey also."
HRH smiles. His friends enjoys the moment.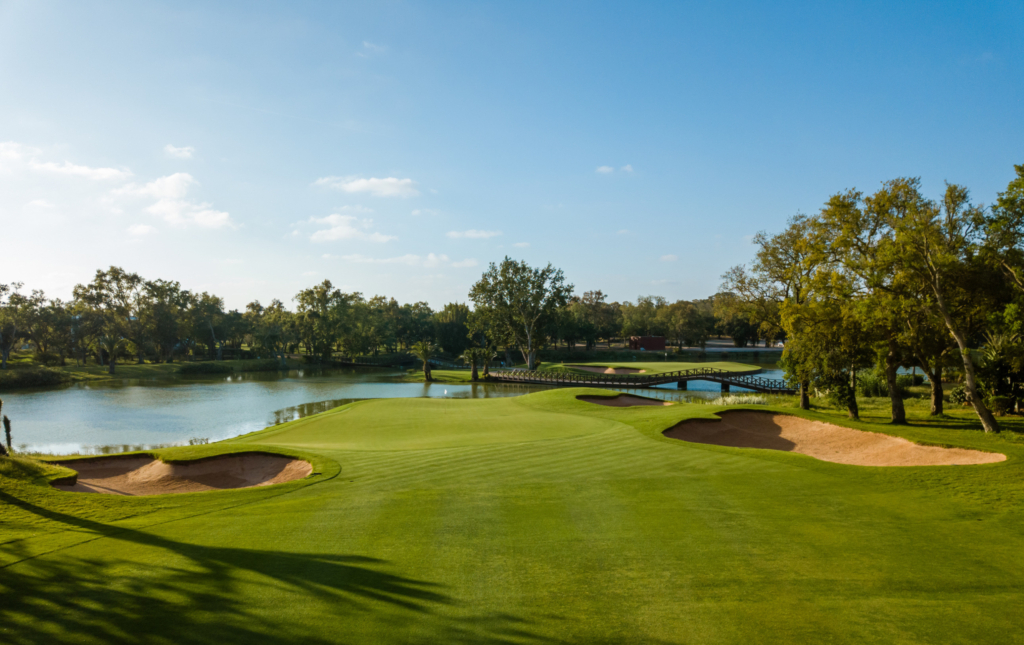 Eleven months later I am back in Rabat as a guest of the Trophée Hassan II. The Wednesday Pro-Am has been a bloodbath. The Monster of Morocco eviscerated one team after another, including the team of Prince Moulay Rachid. Locker room chatter makes it clear that we have not made any friends among the assembled professional golfers. Had we put too much monster back into the monster?
The harsh nature of professional golf is that there can be only one winner. Everyone else loses.
On Sunday French pro Alexander Levy plays the closing nine holes in even par to win the 41st edition of the Trophée Hassan II. A big cheque and big smiles. The media reports that Levy used his head to hit it into the right spots and give himself chances to make putts. One man had subdued the monster. Balance had been restored.
–––
The art and engineering of golf course design is best learned through first-hand experience, under the tutelage of experts who are passionate about educating future architects.
It was a tremendous honour to help preserve the legacy of King Hassan II and Robert Trent Jones at the Parcours Rouge in Rabat. My journey of cultural discovery opened my eyes to life in a muslim country. I made lifelong friends and had experiences that I will never forget. We had the opportunity to share our knowledge in Morocco, but we received far more in return from our hosts.
At Royal Golf Dar Es Salam, Reda had interned for our team. Now, in Mohammedia, we are reminiscing about the project and discussing his goal of becoming a golf course architect.
"When I was 12 years old Prince Moulay Rachid opened a golf academy for local kids in Mohammedia," Reda tells me, "I enrolled and became a scratch player. I won the Moroccan Junior Championship in 2003."
"I qualified as a building architect but later realised that golf courses were my true passion. I'm trying everything I can but its tough to learn locally. When are you Scottish devils coming back to Morocco?" 
——————
This story was first published in November 2019 in Golf Digest Choice, a quarterly journal dedicated to the discussion of golf culture, history, fashion and architecture in Japan.